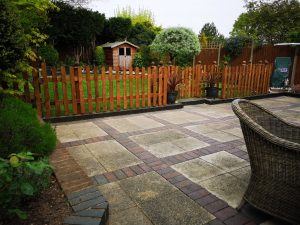 Healy Fencing & Landscaping live in gardens.
We work with concrete, natural stone, porcelain, wood and aggregates day in day out so we come across questions around maintaining the products we install, such as:
What do we use to clean the paving?
How can we stop weeds growing in our flower beds?
My grass has a lot of moss and weeds growing through?
How can I prevent my timber fence from rotting as quick?
These are just a few questions which crop up day to day.
Many people TRY to have a maintenance free garden. I am politely letting you know THERE IS NO SUCH THING AS A MAINTENANCE FREE GARDEN.
Yes I said it. There is no such thing as a maintenance free garden. Let me tell you why!
Unlike your interior design your garden is susceptible to the elements outside. Nature, the wind, the sun, the rain and wildlife. If you want to maximise your garden to its potential you need to be one step ahead of the uncontrollable and unfortunately you are never going to win the battle BUT you can put in measures to prevent or slow natural occurrences from ruining your daily garden experience.
There are many products on the market to help upkeep your garden so to keep it simple we are providing you with the best tips for cost effective Garden Maintenance DIY.
The Healy Way.
FENCING
Fence panels (Do they wobble in your concrete posts?) – Get a clear silicone and a silicone gun. Use between panel and post.
Timber fence posts. (Are you afraid of them rotting?) – Get yourself some Walther Strong Deck Tape or liquid dpm; get that around the bottom of the timber posts. You may have to dig the soil around them to apply.
Afraid of water ingress into your panels? Purchase some panel caps, some nails and a hammer.
Thinking of painting your fence? WAIT… Make sure your paint is oil based otherwise your panels will dry out too much and cracks start to form. Better yet use Stone Guards HR Satin UV Wood Oil. Here is the link below.
https://hardfloorrestoration.co.uk/product/hr-satin-uv-oil-2-5l/
PATIOS 
Pointing falling out? This could be caused by a poor subbase install OR a faulty product. For stone we recommend a natural method of pointing but this isn't DIY suitable so if you are looking to point your patio with something turn to Easy Joint by Azpects OR flow point. If these fail you have a subbase problem. (Make sure you point up easy joint like traditional and plenty of water in the tub).
Need colour back in your patio? Purchase yourself a Jet Wash and some patio sealer by Stone Guard (Link above). Stone Guards patio sealers aren't watered down and they last a long time before having to reapply. They also keep the concrete, natural stone and porcelain from staining.
Stone Guard also supply a cleaning solution to keep on top of your paving. A great product to use prior jet washing.
NOTE – Never use brick acid on natural stone. Your patio will discolour.
FLOWER BEDS AND FLOWER POTS – WEEDS
WEEDS!! Weeds are so annoying and unsightly. If you have flower beds and pots it is ever so easy to get some heavy duty weed membrane (NOT FABRIC). Cut it to the desired area and use bark ontop of the membrane. Seeds can be dropped airborne by wind and wildlife, you can't control this and once in soil you have to dig them out by the root. The membrane and bark will stop seeds embedding into soils.
On the topic of membrane – It is important you have membrane down under your patio to prevent weeds growing thought.
Buy some heavy duty weed killer for you weeds and for your patio.
LAWN
Lawns are complicated. If you have moss, it is due to moisture content in the ground and poor drainage. This could mean you need some land drains and soakaways.
I always recommend use a lawn care specialist for this aspect of the garden because they are worth their investment once you find a good one.
MUST HAVES
Paint Brushes
Pointing Trowel
A small drill and box of screws
Walther Strong Deck Tape
Wood Oil/Paint Oil
Liquid DPM
Wheel Barrow
Weed Killer (To use regularly)