Which garden fence am I responsible for?
The most common question our clients ask us is which side of the fence do I own?
The important thing to remember is every area is different; we operate in the West Midlands in the UK which covers many areas so I will give you a prime example. In Redditch 80% of the time the home owner will own the LEFT side of the fence and 50% of the time own the back fence.
I would not however take it as gospel as the left fence being yours.
What is the most accurate source of information to tell what side of the fence belongs to me? 
The most accurate source of information to help you find out what side of the fence you own is your 'deeds'. Yes, that is right. Your Property deeds.
Your deeds provide a scale plan; most commonly your boundary fence line is highlighted in RED if you are from the UK.
Is it possible to own all the fence surrounding our garden?
The simple answer to this question is YES. Not by choice though. In some situations we have come across clients who own the left, right and back fence; you will find that this can happen because the house has pre-existed newer builds situated behind. Be sure to check the deeds and communicate with the neighbour.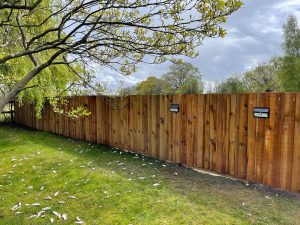 The neighbours plants are pulling down our fence, what do we do?
Talk to your neighbour about it. I am letting you in on a secret; communication is huge in coming to a conclusion with your boundary fence. Approach your neighbour, advise them of your plan to replace your garden fence, be calm about it in your approach and don't go blaming them or pointing the finger; I say this because we have so many clients who have fell out with their neighbours over the boundary fence.
Ask them if they wouldn't mind putting towards the price of the fence that is being ruined by their plants. I say this because you wouldn't be replacing the fence if it wasn't falling down. If you don't ask you don't get and with the price of everything today such as inflation and the rise in cost of living it is important we attempt to share cost where we can to help each other out.
The art of negotiation is finding a middle ground for all parties so communicate but be level headed with your neighbour.
What should I do if my neighbour isn't cooperating?
In the event of a boundary dispute it is important you seek help and professional advice from a Mediator or Solicitor.
An insight for you is that you would be best off seeing a mediator before entering the realm of solicitors.
If you are West Midlands based we always refer our clients to Green Chameleon in the link below:
So if you are wanting to find out which fence you own on your property and you want to prepare to replace the fence be sure to do the following:
Check your deeds.
Communicate with your neighbour and make a plan with them preventing future disputes.
Make sure your have a mediator or solicitor to hand in the event of a dispute.
Get a quote from a reputable fencing contractor – be sure they have plenty of reviews and regularly keep their social media updated – it shows they are passionate.
Decide what style of fence you want and agree with the neighbour. Be open to designs and options which will save you money in the long run. Timber posts don't last like they used to so be prepared for options such as Metal such as Durapost or concrete.
Consider guarantees so you don't ever have to worry about your fence for at least another 25 years. Durapost and Jacksons Fencing offer 25 Year Guarantees on their products.
Make sure the contractor uses a string line for a straight fence as a visual aid for you and your client.
When you get the work done be sure to pass your fencing contractors details to all of your neighbours. In the incident of unforeseen events a fencing product can fail due to external factors such as weather meaning the contractor will always be sure to check on their work to make sure it is tip top condition as they come back to the area.
Durapost:
https://www.birkdalesales.com/durapost
Jacksons Fencing:
https://www.jacksons-fencing.co.uk/