Staring out your window, you think of lazy hazy summer days just a few months away. You can almost smell the cut grass, hear the sizzle of the BBQ, and the laughter of friends……..but alas – winter has taken its toll and your garden needs some urgent TLC!! But when IS the best to start a landscaping project…..??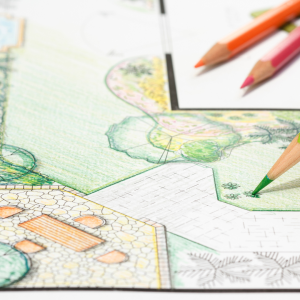 In general, the ideal time for most landscaping projects in the UK is during the spring or autumn when temperatures are moderate and rainfall is more consistent. This allows for any plants involved to establish themselves before the harsher weather conditions of winter or summer come along.
For projects that involve laying turf, the best time for this is usually in the autumn when the soil is still warm and there is typically more rainfall. This helps the turf establish its roots before the colder winter temperatures arrive.
If the project involves hardscaping elements such as patios, walkways, or retaining walls, then the time of year may be less critical. These types of projects can be done at any time of year when the ground is not frozen or too wet.
It is important to consult with a professional landscaper to determine the best time to start your specific project based on your location and the type of landscaping you want to carry out and that's where Healy Fencing & Landscaping can assist! A family-run business that you can trust, covering Solihull, Redditch and surrounding areas, we're so confident of our workmanship and materials, we offer a six-year guarantee.
If you would like to arrange a site visit to discuss your garden fencing or landscaping needs, do drop us a message or give us a call. We'd love to make your dream summer garden become a reality.